Please click on the
console to start the music
Though it has been over four years since Captain Sir Tik Tok McDougle
crossed over the Rainbow Bridge, I am still so proud of this honor.
Tikky's Ma
WHAT HO!
You may now address me by my new title ~ Sir Tik Tok!
Master of The Queen's Cheer! And can now let it be known that Sir Tik Tok is one of the Twelve Knight's of the Queen's Table! Yes, Queen Bitsy has awarded me this lifetime title by virtue of my cheering! pleading! coaxing! high leaps! and a never failing stream of steady whining, to gather votes in Her 1997 Sitefight Victory!
Lead on, Queen Bitsy! The Battles are fought and Won!!
dorissimo's domain
Bold and Stupid Cats lead the way!
What is this I hear? The flapping of leather wings! It's a dragon which I doth see coming towards me! Where's my lance? Where's my Steed? Where's the Exit? It's Winterhawk!
This is Winterhawk, my litter boxed trained dragon!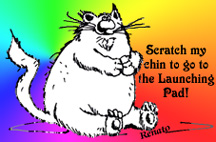 Follow Me Back to The Launching Pad!
Or