Here are three of my dear cats, two of which have gone on to The Rainbow Bridge.
In the front is Gilly Gorgonzola, who still sleeps under my chin at night.
The beautiful tux is Pancake, who was known also as Moon Unit. She was just the best momma cat ever (my opinion!) and had the biggest heart (at least in our solar system!) I have ever know, in humoons or animals. Two days after we rescued her, she had nine kittens! She crossed the Rainbow Bridge in May of '95.
The lovely smokey gray and white cat was our Jimi Pam Salome Where She Danced. She left us in June of 1997 and we miss her so very much. She was my husband's special kitty friend.
If you wish to read how Jimi and Gilly got their names, follow this link:
How'd You Get Those Names?
The Moon Unit and nine satellites!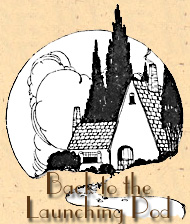 Please go to the Contact Page to email us!