Our Catronauts On The Moon-Unit!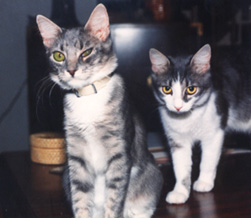 Tik Tok on left - Jimi Pam on right

How did these kitties get their names?

Maybe Mr. Calm and I read too much while growing up! My imagination is endless and busy, so I am sure that helped.
Mr. Calm was already owned by Huey when we met. A lady in his condoplex was Huey's original owner. But she traveled a lot and then was moving and couldn't take Huey with her. Mr. Calm agreed to adopt him. Back then Huey was an indoor/outdoor roamer, fighting raccoons in the bayou. After we married, Huey was NOT amused with having me live with them, and he would nose around and around me, trying to figure out who and what I was..One day I started calling him Nosy, and it just elongated to Banasois..who knows, but it fit him sooo well. He was one tough kitty, and he is bravely fighting kitty wars in his new life, beyond our pale. Please visit his page "Huey Up A Tree."
Jimi and Tik Tok: As a girl, one of my favorite horse books was titled "Tick Tock and Jim." The boy, Jim, traded his grandfather's watch for a broken down horse...by the end of the book the horse saved the boy and was loved by all, and the old horse trader returned the watch. Anyway, the first time I held these two (we found them stuffed in a trash can), I looked at Mr. Calm and said, "Tick Tock and Jim." Of course, they could not have just simple names. Over a period of weeks, the larger became Jimi Pam Salome Where She Dance. HUH? Well, we discovered Jim was a girl, so we added an 'i', she sure looked like my deceased sister, Pam, and Salome is a favorite town of mine in Arizona. In the 20' or 30's a famous actress/dancer performed there and the nickname stuck to the town of Salome - Salome Where She Danced. Probably only old timers in Arizona will remember this..but it fitted Jimi.
Sadly, our dear Jimi Pam crossed over the Rainbow Bridge in June 12, 1997...a shooting star who's light dimmed much too soon.
Tick Tock got shorten to one of my favorite OZ characters, Tik Tok, and since we love all things Scottish, we added McDougle, of the Clan McDougle. We lost our precious Tikky on June 16, 1999 *tears* Please visitor her Memorial Page.
Gypsy we took in a trade, a wild untamable kitty for a kitten, from a woman who had dozens of cats out in the piney woods, and a million fleas. Couldn't have just one baby, so Mr. Calm chose a second, from the same litter, a little calico we named Dakota. She always had emotional problems, so we added to her name, Dakota Flash Maurice. Maurice being the name of a sled dog Mr. Calm once saw on TV..I will never understand his mental processess...and Flash cause she was never still, and always in a rage.
Dakota Flash Maurice
Gypsy, on the other hand was, and is still, the gentlest creature I have ever known. And she just looks LIKE a MacPherson, of the Clan MacPherson..maybe in another life she was. Some of you know why her nickname is "Angel Cakes," but that's another story...( or follow the link at the Launching Pad to read it.)
Gilly Gorgonzola: started life with us by being dumped on our front door step..they rang the bell and ran..it was a bunch of kids and I guess they figured we take her, we did. I always have loved this spelling of Jilly, so we dubbed her Gilly Blue Patterson back then. But it never fit. A few months ago we watched a British claymation "Wallace and Grommet." Wallace loves cheese and kept talking about Gorgonzola..somehow it fit Gilly, who is very fat and loving. We love cheese and it is fattening..so we re-christened her Gilly Gorgonzola. Her nickname is "Chubbs" for the obvious reasons - she is sooo chubby. She has grown into a fierce "Snake Wars" fighter! Read our True story and see her pic.
I'll end this with Sydney's story. I found him eating scraps I had put out for the chickens, at our old house. He was a baby and about starved to death. It took months to tame him, he wasn't wild, but abused we think. He sort of took to Mr. Calm. After a fight with another outdoor cat who hung around our yard for food, we had to doctor Sydney. He stayed in the garage apartment we had and in no time was so loving, so sweet that I talked Mr. Calm into getting him to the vet and having tests and shots and a neutering job. Mr. Calm and I were so broke in those days, that we cleaned fence rows at a friend's farm for two weeks to make money for the vet bill. We called him Peter Pan Pizza then cause he would eat anything and everything..but he looked at us in a cute funny way and suddenly Mr. Calm said "Sydney! He's telling us his name is Sydney!"
If you got here by way of the Moon-Unit Launching Pad page, you know that with Captain Tik Tok's passing on and promotion to Space Commander and Absolute Guiding Star/ Chieftain of the Universe Fleet Command that Sydney has been promoted to Chief Nabob and Absolute Lodestar of the Moon-Unit! Now that he's Official we use his entire name...Sydney St. Sinclare of the Clan Shinclair (btw there really Is a Clan Shinclair!).
Trot over to Pancake's page and I'll tell you about our sweet Mama Cakes, She was so very thin when we found her in our garage, with five tiny babies.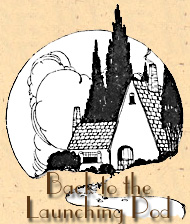 Please go to the Contact Page to email us!