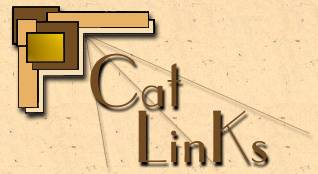 Welcome to the Space Station Links. Enter freely...
and leave something of yourself in passing...
In an orderly attempt to get all my cat friends' links together, I have created the hauntingly familar link site here. I say hauntingly familar because tens of millions of personal home pages have them, and I think it is so our cyber friends won't ZAP us into cyber dust bunnies for not mentioning their sites!
Jimi Pam
Meet Bobbie and the Bunch!

Rivendoll Cats!
The Back Fence Cat Club

Scrappy's Nest - Home of The Crowley Cats

lisaviolet's cathouse

Madam Alto's Cathouse

Granny's Page ~ God Bless her ~ granny passed away June 6, 2004

Feral Cat Coalition